We've been to Italy many times, always off season. We've found every part of Italy to be wonderful, with tremendous history, great food, and an endless of sights. This trip, to Umbria and Tuscany was spurred on by Rick Steves' videos of Italy's hill towns.
Before Italian unification in 1871, Italy was comprised of numerous city-states. These entities were always vying for trade superiority, and sometimes conducted wars against their rivals. The endless conflicts created a need for defenses, and thus the practice of building cities and towns on hilltops, surrounded by walls. This began in the Etruscan era and continued to the modern age. In many cases, the city's residents meticulously protected their ancient cities, and it seems that little has changed over the centuries.
There are countless medieval and renaissance cities. It's not possible to see them all, but it is possible to see a representative sampling of the variety of them. Again, we used Rick Steves' guides to create a manageable itinerary.
Our original itinerary would have taken us to eastern Umbria. Three devastating earthquakes near Norcia, one in August and two more in October, prompted us to respect the rebuilding efforts and revise our itinerary. Even so, some of the towns we visited suffered some damage. Many weakened buildings, which survived numerous earthquakes, were closed until repairs were made.
The cities and towns we visited in the region:
Florence (arrival/departure)
Perugia– an atmospheric city which served as a great base for our trip, with plenty of good restaurant choices, museums and amazing walks through and around the town walls. We had read that the medieval streets were difficult to navigate, so we left our car outside the city.
San Gimignono – A medieval walled city with its many original towers. We arrived on a market day but as we'd arrived fairly early, were able to walk around the cobbled streets and imagine what life had been like 700 years earlier.
Monteriggioni
San Gimignono
Monteriggioni
Assisi
Spello
Bevagna
Todi
Orvieto
Narni
Orvieto
Amelia
Montepulciano
Montalcino
Each town was different. Some were medieval, others were Renaissance. Almost all were intact, with preserved city walls and towers. This region requires a minimum of a week, and we felt rushed. But visiting more cities doesn't mean seeing "more" per se. Spending time in each to walk around and enjoy the city's atmosphere was more important for us than trying to visit more places. We stumbled across concerts, festivals, and markets.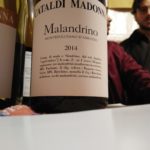 This area is known for its exceptional red wines, most notably Montepulciano de Abruzzo. We used every opportunity to sample the local wine. The Montefalco Rosso was our favorite, but we would need a lifetime to try them all.
Logistics:
Hotels – We used booking.com exclusively for this trip. Their vetting policy (allowing only bonafide guests and requiring a prompt review) seems to have more truthful and accurate reviews that Trip Advisor and other sites. We were very happy with the hotels we found. After this trip, we learned that many hotels add a booking.com surcharge, and that booking.com doesn't honor its lowest price guarantee in these cases. It's therefore important to check a hotel's direct-booking price.
Relais Hotel Centrale, Florence – perfect in every way. This very central hotel is a few blocks from the Duomo, easy to find, and the staff were very helpful in recommending excellent restaurants and giving directions. Their breakfast was a bit too good, with local cheeses, salamis, pastries, cakes, and on and on. The rooms were huge, quiet, and comfortable. We stayed here twice, the first and last nights of our trip, and both rooms were equally perfect – although the first night they upgraded us to a suite which was really nice. The hotel also printed out some documents and our boarding passes at no charge.
Hotel Fortuna, Perugia – Again, perfect in (almost) every way, if one doesn't mind a few stairs on some floors… The hotel breakfast was excellent, and the staff were all very friendly and welcoming. The location couldn't have been better.
Restaurants:
Perugia: La Taverna – Our favorite! The food in Perugia was consistently excellent – and this restaurant was highly recommended on Trip Advisor, for good reason. Besides the personal service and warm welcome, every dish was phenomenal, without exception. We ate here twice and would have come back yet again if we had more time. This was truffle season, and we ordered every truffle dish on the menu. While the desserts looked delicious, we were never able to make it that far. The prices were quite reasonable as well.
Bottega dei Priori, Perugia – We were looking for a light casual meal and had spotted this small restaurant. The online reviews were mixed, but there aren't a huge number of casual spots in the historic center, so we took a chance, and were we glad that we did.
Kemwel – we again used Kemwel to rent a car. We had a minor disaster – Phil had just renewed his driver's license before we left, and while scanning it at home, he left it in his scanner and forgot to take it with him. Susan was about to leave her license at home, but took it 'just in case.' Luckily she did. Phil had his scanned copy plus his international driver's license and wound up doing the bulk of the driving. Disaster averted.
Europcar – although slower than molasses, Europcar gave us a great little car. Their return garage was close to impossible to find, but after driving in circles for a half hour in crazy traffic, we found it.
Parking tip: even though I live in a city (and I'm a typical Boston driver), I really don't like driving in cities, preferring to take public transit. Perugia is a medieval city perched on a hill, with very narrow streets and no cars allowed in parts of the historic center. We learned that there was a free parking lot just outside of town, connected to the historic center by a low-cost 'Mini Metro' cable car. The lot was super easy to find, and made getting in and out of the city a relaxing trip.