Reviews
Scroll down for our reviews of hotels, guides, and our bird, mammal, reptile lists
Click here for our travelogue.
Alamo
After our awful Panama experience with Thrifty, we were ready for car rental problems. We were armed with a letter from our credit card company, our contract, and names of people we spoke with. All of that was unnecessary. Alamo at San Jose airport could not have been nicer or more honest. They did try to pressure us a bit to buy additional insurance, but we simply said 'no thanks' and we were on our way. The car was a tiny Suzuki, great on gas, and easy to drive. Our Garmin GPS did ok after we figured out a typo in the address of one of our destinations. Advice: always look up the GPS decimal-degree coordinates of your destinations before you travel.
Nirvana Apartments – Alajuela (SJO airport)
As we were arriving late and didn't want to drive on our first day, we chose a place in Alajuela, close to the airport. This was a giant apartment with a full kitchen and everything needed for coffee in the morning. Warm and friendly host. Pretty easy to find if you have a GPS.
Marfi Inn – Cahuita
A short walk from the entrance to the park in Cahuita and the town center, the Marfi Inn was wonderful. The apartment was spotless and spacious, the kitchen well stocked, the AC was great, and the host could not have been nicer. The owner also has an Italian restaurant on premises. Our breakfasts thus had an Italian flair: freshly baked tarts, imported Italian charcuterie, and the most amazing coffee imaginable. She had us put the car behind locked gates, which put our minds at ease (although we weren't worried). Her kids were great – curious and fun!
Selva Color – Quepos
This resort near Carara National Park is in a beautiful jungle setting. Besides the lovely accommodations, there is a pool, and we had a lovely poolside drink (we brought our own beverages) in the evening. We were upgraded to a cottage as we seemed to have the entire place to ourselves; we saw no other guests during our stay. The breakfast was excellent, with strong local coffee, the best fresh fruits, tasty local cheeses and juices.
MyCasa – Manuel Antonio
Although we had mixed feelings about Manuel Antonio Park, this small B&B made it all worthwhile. The owner not only enjoyed having guests, but had an infectious enthusiasm for the region's wildlife. He went out of his way to make us feel at home – and point out a sloth just 100 feet away from the patio! He gave us detailed instructions exactly where to park, how much to pay, where to go, and what to see. He introduced us to a troop of squirrel monkeys that visit his house every afternoon, made us a bagged breakfast for our early day at the park, and served a delicious BIG early breakfast for our departure day. The room AC was frosty and quiet! We can't say enough about how much we enjoyed Carlos and his hospitality.
Casita Corcovado – Agujitas
Staying at Casita Corcovado was like staying with family. The owners, Jamie and Craig, American expats and ex-hippies, clearly enjoy meeting guests and providing a warm welcome. Since all tours start at 6, they serve a GIANT breakfast at 5am – with the best local fruit imaginable. Their B&B is just a few minutes' walk from the village center, and just a 3-minute walk from where the boats leave for Corcovado. Phil was happy to help them with a few minor computer glitches. Casita Corcovado was one of the highlights of our trip; we give them six stars (out of five).
Exe San Jose Center
A perfect modern large hotel right in the center of the city. Nice staff, great AC, huge room, quiet hallways. The breakfast was ok, but had the slowest coffee service we've ever seen – possibly a world's record. But everything else about this place is great.
Gringo Kurt's – restaurant and bird watching
Curt and Charlotte, the owners, are American expats, and have created a birdwatchers' paradise. From 2:30-5pm, they welcome birders to sit on the restaurant deck and watch over a dozen species of birds from less than 10 feet away. Curt is a birder, and has a wealth of information about not just birds, but all the area wildlife. His passion and enthusiasm are infectious. He welcomes birders without even mentioning ordering food – and serves unlimited bottled cold water. We spent every afternoon there, taking wonderful photos, chatting with Curt, Charlotte, and their other guests. We came back for one evening for dinner, which was the best meal we had Costa Rica. One entrée is enough for 2-3 people: well over a pound of super-fresh marlin, lightly seasoned, roasted over an open fire wrapped in a banana leaf, garlicky potatoes, salad, and a fresh veggie medley. We couldn't finish the one entrée! The cost, at $22, was a bargain! (Note: reservations are required; there are only 5 tables.)
Carlos Gonzalez – Ecotour Guide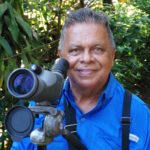 Carlos is known to be the best birder in Corcovado. His identification skills are superb, but what's most amazing is his eyesight. He was able to spot and identify birds from well over 100 yards away, birds that we had trouble even finding with our binoculars. He knew the birds' calls, flight style, grouping habits, diet, and every imaginable detail. Carlos also leads mangrove tours – which we did as well. He travels up to Sierpe, stopping for birds, reptiles, amphibians, and mammals – and well as plants. His knowledge of the ecosystem is stunning. His English is excellent. This mangrove tour was a highlight of our trip. We saw sloths, 3 kinds of monkeys and countless birds, some of them quite rare. Contact him directly at clgonzalez08@gmail.com; or +506 8720-2986. You'll find equally glowing reviews in numerous travel forums for good reason: he's the very best. We recommend that you book in advance
Bird List (partial)
Anhinga
Bananaquit
Barn owl
Bat falcon
Belted kingfisher
Black crowned antshrike (T. atrinucha)
Black hooded antshrike (T. bridgesi)
Black throated heron
Black-mandibled Toucan
Blue crowned motmot
Boat billed heron
Brown pelican
Caracara
Cherrie's tanager
Chestnut backed ant bird
Collared Aracari
Collared plover
Crested Guar
Fiery-billed Aracari
Golden collared manakin
Golden hooded tanager
Gray neck wood rail
Great blue heron
Great kiskadee
Great tinamou
Green heron
Green honeycreeper
Keel-billed Toucan
Little blue heron
Magnificent frigate bird
Mangrove swallow
Masked tityra
Northern jacana
Orange chin parakeet
Osprey
Palm tanager
Pileated woodpecker
Purple gallinule
Red legged honey creeper
Red lord parrot
Ruddy crowned dove
Rufus tail hummingbird
Scarlet macaw
Scarlet rump tanager
Snowy egret
Social flycatcher
Southern lapwing
Spotted sandpiper
Summer tanager
Tiger heron
Tricolor heron
Turquoise cotinga
Variable seed eater
Violaceous trogon
Whimbrel
White ibis
White necked puffbird
Yellow crowned night heron
Mammals:
Common racoon
Agouti
Tapir
Coati (Coatimundi)
2-toed sloth
3-toed sloth
Howler monkey
Spider monkey
Squirrel monkey
Capuchin (white face) monkey
Variegated squirrel
Spotted dolphin
Reptiles:
Green iguanas
Geckos (common "house" and others)
Basilisk (Jesus Christ) lizard
Eyelash pit viper
Culebra (snake)
Musarana (snake)
Mangrove tree boa
Orange slider (turtle)
American Crocodile
Spectacled Caiman
Other:
Golden silk orbweaver (spider)
Common morpho butterfly
San Andreas spider
Red mangrove tree crab
Trapdoor spiders
Hermit crabs