Puglia is the "heel" of Italy's boot. Originally colonized by the Greeks, most of the inhabitants seemed more Albanian than what one usually thinks of as looking "Italian". The central Italian effusiveness was also absent, although the people were friendly and helpful.
At the turn of the 19th to 20th century, this region suffered a prolonged drought. Thousands of people left for America. The depopulation was severe. Towns were abandoned, families were separated. The vast majority of American Italians immigrated during this time. To some degree, Puglia is still recovering. The population is still low, but the region is no longer so poor. Puglia also suffered during WWII; it was even used as a place to banish malcontents, as documented by Carlo Levi, Christ Stopped at Eboli.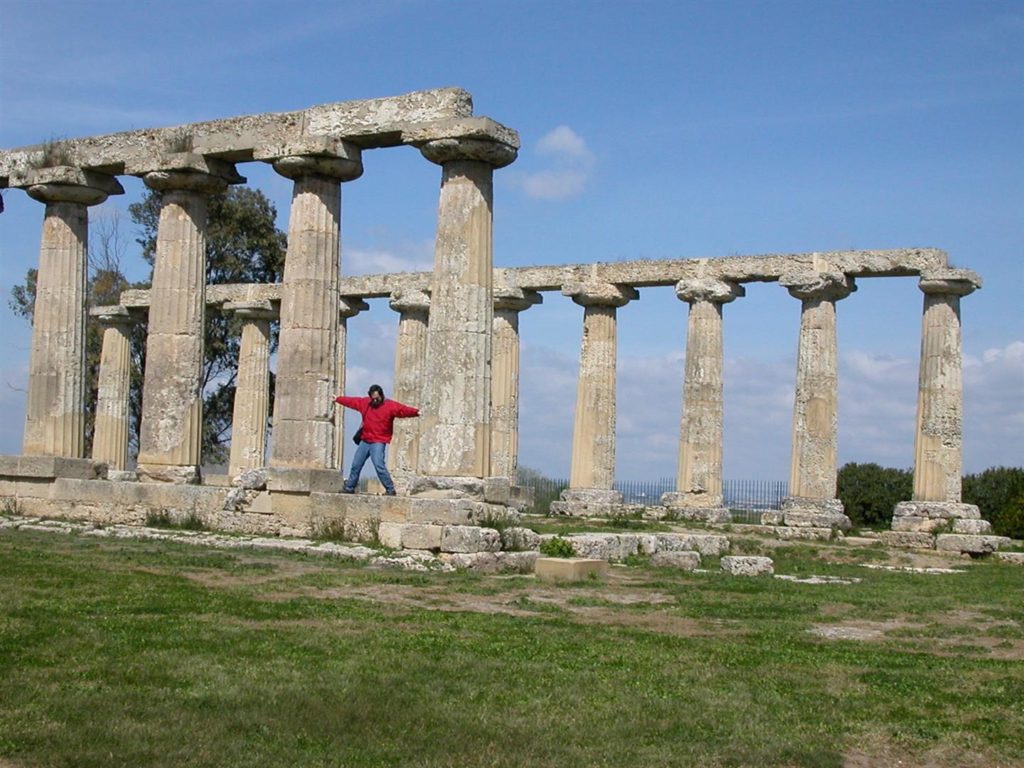 Although colonized by Greece, Puglia missed being overrun by the usual hordes and invaders. The result is that the medieval city centers of this region are in pristine shape. And since it's off the usual tourist circuit, these urban centers have not been turned into tourist traps lined with pricey restaurants. In fact, too often, there was only one restaurant in many of these towns. Many of the walled centers' residents were "everyday working-class folks" – with kids playing in the streets and laundry hanging above. This was a refreshing change from many of the other European cities.
This is also the region where one finds "trulis" – conical shaped homes made of loosely fitted stones.
We were attracted by the Greek ruins and relatively few tourists in this part of Italy. We created an itinerary that would minimize both number of moves, opting for self-catering homes and apartments instead of hotels.
Bari, Canosa di Puglia, Castel del Monte, Ostuni, Metaponto Alberobello, Grottaglie, Gallipoli Otranto, Lecce
Bari: We arrived on different flights – giving Phil the opportunity to "suss out" Bari's restaurants and sights. Bari is the economic center of Puglia, and is bustling with traffic, shoppers, and supposedly petty thieves. Phil had some minor problems with the car rental where they tried to say the only available car was a van bigger than the state of New Hampshire, but he persevered, picked Susan and our friends from England, Tony and Erika from the airport, and whisked us to our 4-star resort 20 minutes north of Bari. The next day, we explored Bari's sights together. The old walled city was charming – and the best place to start our journey. The enormous castle was perfectly restored.
Bari we headed north to Canosa I Puglia, enjoying their medieval castle and Greek ruins. We then worked our way south along the coast, stopping in medieval towns like Ruvo di Puglia , Bitonto, with its amazing Roman tiled floors, and Ostuni. Along the way, scenic olive groves lured Tony and Erica, who are professional photographers, to make photo stops.
Alberobello is an ancient town with trulis, unusual stone houses with conical roofs. We arrived on market day and got some souvenirs as well as many great photos. From there we headed to Plignano a Mare, which juts out into the Adriatic Sea. We continued all the way to the end of the Appian Way, in Brindisi, stopping in lovely small self-catering homes and finding delicious food. From Brindisi we continued to the very "heel" of the Italian boot, trough Lecce and Otranto and over to Gallipoli on the Ionian Sea before returning to Bari.