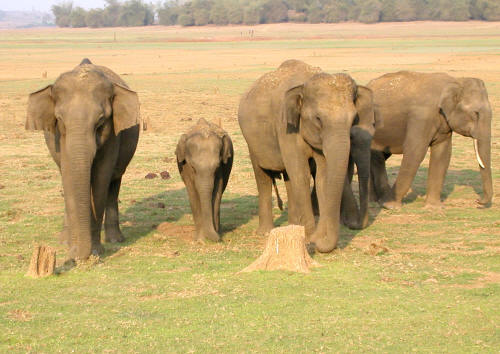 Each time we go to India, we have a continuing conversation about how to understand the culture we are viewing as outsiders. Class, caste, religion, and language vary from state to state in India, and the differences between regions are as great as the similarities. Each trip, we are impressed with the rich culture, incredible art and architecture, and the complex social structure of this country. A perfect example was the laundry list in our Mumbai hotel, which included prices for sarees, burkhas (the full covering worn by observant Muslim women) and cocktail dresses. There was also an arrow on the ceiling indicating the direction of Mecca.
This was our fourth trip to India (Phil's fifth, as he spent a week in Bombay/Mumbai last year). We landed in Mumbai at 2:00 AM, and immediately knew we were back in India – the heat, unique smells of incense, sandalwood, flowers, diesel, and people, and the chaos that sorts itself out somehow as we found our transport in the midst of the crowds.
Mumbai is probably India's most cosmopolitan (by Western standards) city – cows and motorized 3-wheel taxis are banned from the city. However, the traffic, scores of street vendors, uneven sidewalks, and remembering which way to look when crossing the street (India, like Great Britain, drives on the left) make the first days of walking around challenging. We spent most of our time in the southern end of the city, known as Colaba – great restaurants, interesting shops, including street vendors that line 7 or 8 blocks of Colaba with every type of craft, electronic item, CD, T-shirt or other product that a tourist could conceivably want.
If one has been to other parts of India, the most striking thing about Mumbai, other than the absence of cows in the street, is the incredible Indo-Saracen architecture, a legacy of the British Raj. From the museum to the university to the Gateway of India, it is possible to walk for hours enjoying the well-preserved buildings from the late 19th century that are a unique combination of Victorian and Moslem architecture, with many buildings that rival the chateaus of France for beauty and grace.
As Phil had been to Mumbai a year earlier, getting oriented to the city was fairly easy, and in spite of our jet lag, as we had our first mango lassi and Indian food, we began to settle in. On our second day, we went to services at the synagogue in Colaba, one of last few remaining in the city, where a small community of Jews continues to live. Most of the Mumbai Jews were descendents of Baghdadi refugees of the 1700s – or the Bene Yisroel, descendents of seven families of Galilee oil-pressers shipwrecked over 2,000 years ago. Most of these Mumbai Jews have since scattered to England, the U.S., and Israel. We met a woman who was visiting Mumbai for the first time in 40 years, and she described with nostalgia the rich Jewish community life she remembered from her childhood.
January-February is the wedding season, and in Mumbai, the upper classes create celebrations that are truly over-the-top. Along Marine Drive, clubs are rented for weddings, and incredible facades are created so that it appears that the wedding party is entering through a fairytale castle, while fountains and elaborate tents entertain the thousands of guests who come to celebrate. We took a walk to see some of these set-ups, and were amazed at the huge constructions that were put together, only to be taken down the next day when the wedding was done.
A highlight of any trip to Mumbai is the side-trip to Elephanta, an island that is a pleasant one-hour boat ride from the Gate of India. In the 6th century, folks living here looked at the huge granite cliffs and somehow conceived of the idea of chiseling (out of solid granite) a ½ acre, 130 feet deep, and 20 feet high temple complex, leaving columns to be intricately carved and creating incredible statues along the walls. The scope of the project is incredible, and the statues of the Hindu deities inside are graceful and convey the power of religion to the people who view it.
Karnataka
We decided to go to Karnataka because of its wealth of temples from various periods of history. (As in our previous trips, all arrangements were made through Swagatam, a travel agency in India. See logistics.) In the north, there are relics of the Mughal rulers; in the south are the beautiful temples of the Hoysala dynasty, and in the middle at Hampi, the ruins of the sprawling capital of the Vijaynagar Empire. Each had its own culture and arts and left a legacy of art and architecture to enjoy.
Our first stop, after a brief overnight in Bangalore, was the Keshava temple in Somnathpur, near Mysore. The entire exterior of this temple, built in the 13th century, is exquisitely carved with bands of elephants, scrollwork, scenes from Hindu epics, and sculptures of gods and goddesses. Each one is beautifully conceived and executed.
We found Mysore to be hot and dusty, although the enormous palace in the middle of town, built by a British architect for the Maharaja, was beautiful- Indo-Saracen architecture complete with imported stained glass, massive carved wooden doors, and graceful gardens.
After Mysore, we spent two days at the Nagarhole National Park. We stayed at a wonderful lodge there, Waterwoods, run by a young woman who is a naturalist as well as a pioneer – it is unheard of for a young woman in India to run a hotel. Each morning and evening, we took trips by jeep or boat into the Park, seeing herds of elephants (including a baby that was only 22 days old!), wild boar, spotted dear, crocodiles, spotted deer and bison. Though we didn't see tiger, the elephants were wonderful – many family groups, and we were able to get very close. The babies were carefully guarded by at least two females, and watching the elephant juveniles play with each other was a highlight of the trip. The trip along the river proved a bird watcher's paradise – painted herons, egrets, kites, eagles, ibis, kingfisher and many other colorful birds were everywhere. As we traveled the river towards the park we were also struck with the timelessness of India, as we passed farmers using ox-pulled plows to till their fields and saw women walking with jugs balanced on their heads to collect water.
We began working our way north through Karnataka. We created our itinerary using various "package tours" we found on the web. Using Lonely Planet to create an itinerary is difficult, as their descriptions are somewhat dry. There are few other books, so we took the gamble that other tour operators knew what was interesting. We knew of Hospet/Vijaynagar from a film on the Discovery Channel, but knew little about Badami, Aihole, and Pattadakal, where the great cultures all met.
After a long drive we reached Hassan, our base for exploring the Hoysala temples at Halebid and Belur. Like Somnathpur, these temples were covered with sculptures, each one of which was of museum quality. We took lots of pictures, trying to capture the art that surrounded us. From Hassan we drove to Hospet. Driving the roads of India is an experience in and of itself – cars share the roads with ox-drawn carts loaded with sugarcane, bicycles carrying entire families, motorcycles, pedestrians, herds of goats and sheep, farmers walking their buffalo, and stray cows and dogs. Motorized vehicles all navigate by sonar, using their horns at every opportunity.
Hospet, like many of the towns in Karnataka, is hot and dusty. In addition to cows and dogs, there were pigs everywhere. Other states have banned pigs in the cities, but although Karnataka has more Muslims than other places we've visited, pigs were ubiquitous, and added to the chaos of the street scene. While there is little to recommend in Hospet, it is the base for visiting the incredible ruins of Hampi.
Hampi was the Vijaynagar Empire's "city of victory". When their empire crumbled, the city was completely abandoned. The ruins stretch over several miles, and include temples, palaces and small shrines. This was one of our primary destinations. We spent two full days exploring, including coming back one evening to watch the sunset over the hill, framed by ruined temples. One of the temples is still active, and has a beautiful temple elephant. Elephants are considered holy, and participate in some of the temple rites. If one gives the elephant some rupees, she lays her trunk on your head, giving you a blessing. I never realized how very heavy an elephant's trunk is, but the experience of having one weighing on your head is a peak life experience!
Hampi is built on a magnificent boulder-strewn hilltop – surrounded by a river-fed valley filled with lush greenery. The boulders are awe-inspiring and larger than life, acting as a natural fortress. The size of the rocks made it possible to carve towering monolithic sculptures out of them. The Vitthala Temple is one of the most magnificent at Hampi. One of only three World Heritage sites in India, it is famous for its stone chariot and musical pillars. It is possibly one of the most photographed chariots in the world. The wheels that you see, which are now fixed in place, actually used to revolve at one point. The temple was never really completed and has never been consecrated.
Badami was the capital of the Chalukyas. In about 500AD, rather than simply build temples, the Chalukyas decided to carve temples out of a mountain. The concept of removing everything except for the desired carvings, pillars, walls, and doorways is phenomenal. The opening of the largest cave was nearly 70 feet wide. It is decorated with images of Shiva as well as other figures. The artistry and sculptural genius makes this cave a highlight.
Aihole has over a hundred temples scattered around a small dusty village. Most of these temples were built between the 6th and 8th centuries and some even earlier. Known as the cradle of Hindu architecture, each temple appears to be an experiment in style. It was here that designers created the template that has become the standard in southern Indian temple architecture. Pattadakal, like Aihole, is a harmonious blend of architectural forms from India's north and south. An impressive series of nine Hindu temples, as well as a Jain sanctuary, are characterized by grace and delicate details. The oldest temple, built in the early 8th century, is a simple but a massive structure. The sculptural art is characterized by grace and delicate details. The narrative reliefs illustrate various episodes from the great Hindu epics.
Bijapur – As we departed for Bijapur, we felt the trip winding down. We had expected pretty basic hotels in Karnataka, and were pleasantly surprised to find the hotels clean and comfortable. Our hotel in Bijapur was like an oasis. We'd headed for Bijapur to see some of the Moghul architecture: the Gol Gumbaz, a magnificently huge domed Mausoleum; the graceful Ibrahim Roza, a mausoleum/mosque complex that inspired the Taj Mahal; and other smaller mosques and mausoleums around town. The city's two sets of walls were largely intact, and we had an opportunity to explore some of the towers.
Kolhapur – We'd thought Kolhapur was just the city we had to go to catch the overnight train back to Mumbai. It turned out to be a lovely, bustling city with a large temple complex and two palaces. The Maharaja's palace was a cacophonous riot of spires, applied ornamentation, and Indo-Saracen design. The museum inside was sad, bordering on pathetic. The Maharaja was of the opinion that animals existed solely to provide him with target practice, and he had his victims stuffed and put on display. Two large rooms contained his prey, one cabinet contained animal limbs turned into lamps, stools, and other accoutrements. We also visited the "old" palace, now a faded hotel. We were proudly shown the "Maharaja's suite", which looked as if it hadn't been painted since the era of the Raj. Nevertheless, we wouldn't hesitate to stay here: faded glory has its charm.
The Train: Mahalaxmi Express – In the latter part of the trip, we were in areas that were infrequently visited by euro-tourists. Tourist infrastructure was non-existent. This added to the charm. Our Indian travel agent specifically directed to Kolhapur because there was no First Class Sleeper car on the trains to this area, and we were told that it was essential to get on at the train's starting station – or risk someone occupying your seat. We were expecting a dismal night of a hot and crowded train. Again, the reality was infinitely better than our expectations. The car was no different than a first class sleeper. It was clean, air-conditioned, and we had delightful neighbors (a family of two adult men taking their elderly parents to the temple at Kolhapur).
The trip home
We spent another two days in Mumbai, doing some last minute shopping, a little sightseeing, and preparing for our trip home. We had decided to spend 2 days in Milan on the way home (we were flying Alitalia and the flight goes thru Milan).
We have been to many sections of Italy: Rome, Venice, Florence, Sicily, and the Amalfi Coast. Milan had always seemed to be unworthy of a special trip – being simply a basic modern Italian metropolis. We were very wrong! Milan is a charming city with a 17th-19th century core. The museums are packed with a wealth of renaissance and post-renaissance art, Roman antiquities, and Etruscan pottery. Milan has been invaded by just about everyone, and the buildings reflect a wide variety of influences. It's also a very livable city, with broad boulevards, large open squares, excellent transit, and what appeared to be more cafes per block than anywhere else on earth.
Despite Milan being in the north of Italy at the foot of the Alps, it rarely snows, and snow is dreaded because it turns the traffic into a nightmarish mess. Rare as it might be, it did snow the morning we left for our return flight home, and traffic on the highways stopped. A 50-minute bus ride to the airport turned into a nail-biting 2½ hour ordeal. At one point, we simply resigned ourselves to missing our flight. We did ultimately make the flight, with no time to spare.