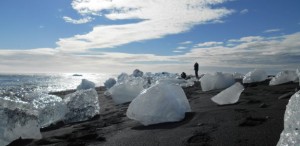 Iceland conjures up many images – cold, ice, volcanoes, and banking scandals. But with the allure of hiking in glaciers, combined with low-cost nonstop flights from Boston, we decided to explore this country that is just over 4 hours away. We traveled with our good friends Tony and Erika, professional photographers who we can count on to share wonderful pictures.
We chose a 7 day itinerary. There's really too much to see in one of the popular 24 hours layovers. And the island is bigger than it looks. We took our time, stopping to see magnificent waterfalls, glaciers, and incredible vistas.
Our itinerary focused on Iceland's glaciers and volcanoes, avoiding Reykjavík, where 2/3 of Iceland's small population resides. Iceland is much bigger than it appears, and while the roads are good, the speed limits are supposedly rigorously enforced. In a week we explored just the south coast and part of the east coast.
Iceland lies on the mid-Atlantic tectonic rift. The land is geologically new, and there are geothermal hotspots throughout the country. The mountains are ragged, and the coastal Plains narrow. There is basically only one road around the island, aptly named Route One.
Our first stop was Thingvellir– this was the most crowded place we went to, as many daytrippers from Reykjavik on short stopovers visit this area and/or the Blue Lagoon. Thingvellir is a national Park in the Golden Circle. It has historical significance being the site of the country's first democratic Congress. But it's hard to figure out what's exactly there, and what to do once you arrive. Thingvellir is the best place to see the North Atlantic rift. There are deep fissures and volcanic hot spots throughout, and a wonderful geyser that shoots into the air every few minutes.
We saw our first glacial lagoons east of Vik. Glaciers can end on land, called a hanging glacier, or calve into the water. In the southeast of Iceland there are two glacial lagoons where glacial tongues and giant blocks of ice concentrate. The Vista is magnificent; the scale is hard to comprehend in our photos. Look for the two small boats in the photo of our glacial lagoon.
Birds: since we arrived after many of the birds had migrated we did not get to see any puffins however we did get to see an incredible number of massively giant reasons ? guillemots and other year-round residents.
Iceland food costs double to triple the prices of the USA, and there are relatively few supermarkets. We were glad we'd brought coffee and cereal as we stayed in a lot of cabins that had kitchens, far from any source of caffeine.
Credit cards – to buy gas or diesel you must have a chip-and-pin credit card or debit card. Chip- only will not work. Although I've read it's possible to pay with cash, most of the gas stations seem to be closed and you could only buy gas during off-hours by credit card.
Reviews: we decided to stay in places that had kitchenettes.
Minniborgir – these cabins were perfect, clean, and new. There were hot tubs and center of the complex. The bedroom was a little claustrophobic but manageable. There was a restaurant, but we didn't have an opportunity to eat there.
Bragdavellir – new, clean and roomy. Reading the guestbook was weird. The owners used to personally greet their guests, offering them a drink. We had only a note taped to the door, despite our mid afternoon arrival. They left a copy of the bill – which was incorrect -. The error on the bill was fixed promptly, and the owner came by late at night and handed us the corrected bill. I suppose that their enthusiasm for greeting new guests waned over time.
Mid Hvoll – these cabins were clean and new. It seems as if most of Iceland's guest cottages were recently constructed – perhaps right after the financial turmoil – built to supplement the farmers' income. Although the facilities of these cabins were great we had a few criticisms. When we asked about restaurants in Vik, just a few miles away, the woman knew absolutely zero. Really?? There are only four restaurants in this tiny village can't they have a list? They also overcharged us for the room. Booking.com allows prices only in specific currencies (e.g. euros) , and hotels must charge the quoted rate. But Mid Hvoll decided to fix their rate in Icelandic kroner, which resulted in an overcharge of about €24. When I asked about this the woman just said that's how it is – period. I called Booking.com, who told us that they would resolve the situation. The other problem with the cottage is that it was advertised to have Wi-Fi, but the Wi-Fi signal was too weak to reach our cottage. We had to walk outside about 50 feet towards the other cottages to have an adequate signal.
North Star apartments – these were in a good location and quite roomy. However, the apartments were furnished like jail cells. The Wi-Fi only worked if you stood flat against the door. The stove was dead, there was no coffee pot, and the furniture consisted of one cheap metal folding chair. There was no front desk and there was no one available to resolve any problems.
WOW Airlines – For no-frills economy airline wow exceeded our expectations. Although they were late leaving Boston we arrived only 30 min. late into Reykjavík. The seats were comfortable, and the staff were courteous.
Blue Car Rental – They were nice, but forgot to pick us up. Once we called to remind them of our pickup, it took them 20 min. to make a 1 minute drive. And for the pickup, they charged us €10. Nevertheless, they gave us a perfect car. The interior of Iceland is mountainous, rocket, and largely inaccessible. Although we had an all-wheel-drive crossover, one needs to get a serious four-wheel-drive specially-equipped vehicle to access the interior. The interiors glaciers can be seen from the ring road, as the tongues of ice at the end of the ring road. The glaciers also cause literally thousands of waterfalls we saw hundreds every day, many of them spectacular. We rented a Toyota Rav4, which was roomy enough for 4 people, and allowed us to travel on gravel roads.
See the end of this post for GPS coordinates
GPS Coordinates
Map out your itinerary using GPS coordinates, NOT city names. Every city seems to be spelled in multiple ways and there are many letters that exist in the Icelandic alphabet that aren't available on your keyboard, Your GPS may not /probably will not have all the city names in its database.
Thingvellir National Park, with Öxarárfoss Waterfall
64.254547, -21.144635
Efsti-Dalur II – Farm and restaurant, best ice cream
64.238961, -20.550413
Geysir geothermal area – Haukadalur and Strokkur
64.313759, -20.297008
Gullfoss waterfall
64.324874, -20.132527
Faxi or Vatnsleysufoss Waterfall
64.2256, -20.3381
Friðheimar – greenhouse, restaurant (famous for tomato soup)
64.178379, -20.447883
Skálholt – Cathedral/Historic site\
64.126283, -20.526462
Kerið Crater Lake
64.042260, -20.887754
Hveragerthi – greenhouse village, fumaroles
63.995366, -21.192937
Reykjadulur – Hike to hot river – Trailhead
64.022040, -21.211220
Urridafoss waterfall
63.924675, -20.675272
Seljalandsfoss waterfall
63.615975, -19.992296
Gljufrafoss – waterfall in a keyhole canyon
63.621256, -19.988208
Small but dramatic.
Eyjafjallajokull Visitor Centre
63.543151, -19.667425
Skógarfoss waterfalls
63.529498, -19.513156
Reynisfjara – Reynishverfisvegur, Reynisdrangar
black beach, pinnacle rocks
63.404389, -19.044797
Foss a Sidu waterfalls
63.853415, -17.872127
Dverghamrar "dwarf rocks"
63.850938, -17.859937
Fjallsárlón Glacier Lagoon
64.014639, -16.370766
Jökulsárlón – Glacier Lagoon
64.048249, -16.180021
Stokksnes
Sweeping views of the rocky coastline
64.244099, -14.971262