Sevilla, Cordoba, Jaen (and Ubeda/Baeza), Malaga, and Madrid
With covid being at a low point, we decided to travel to southern Spain, as well as spend time with some friends in Madrid. We chose four stops plus Madrid:
Sevilla
We had visited Sevilla many years ago, but this time had a chance to explore the city and its sights in greater detail. We put together a long list of sights in the Centro, Arenal, and Triana. Onehighlight of the trip were the spontaneous Sevillanas (a dance similar to flamenco) that we saw in an outdoor restaurant. We learned that Sevillanas are taught there at a young age and are typically danced at ferias (fairs) and special events. The second amazing experience was in Triana, the traditional home of Seville's Gitano/Roma community. While enjoying afternoon drinks, a crowd suddenly gathered around a guitarist and singers began to adlib verses to popular flamenco songs. Members of the crowd took turns taking the lead, and the guitarist played until he was exhausted -and then another guitarist took over.
Walking throughout the city, we found Roman aqueducts, amazing ceramic tilework, spectacular gardens, and exceptional restaurants. Each evening we caught views of the Giralda, the cathedral of Seville, which is beautifully illuminated at night. We had wonderful tapas and plenty of good vermouth and Spanish wines. A favorite museum was the Casa de Pilatos, the original residence of the Dukes of Medinaceli, which was amazing. The original owners gathered dozens of roman mosaics and statues and installed them in each room in her palatial home. The floors and many walls were covered in mosaics, as well as amazing art.
Cordoba
The main attraction of Cordoba is the Mezquita-Catedral, an architectural gem that defies description. Arriving first thing in the morning, we were among just a few other early-risers – definitely a good time to visit. But there's so much more to Cordoba than the Mezquita-Catedral. A Roman bridge spans the Guadalquivir river, and below one can see the original waterwheels that powered ancient gristmills. Cordoba was a major city for Rome, for the Umayyads, Visigoths, and for modern Spain. It was the home of Spain's largest Jewish community, and the Jewish Quarter still retains it's winding streets and closely packed houses in the historic center
Jaen
Jaen is a traffic-filled busy commercial center, the economic center of Jaen province, and the home to one of the most spectacular paradors in Spain, where we stayed for a night. The parador encompasses an 18th-century castle that has been beautifully renovated keeping its huge stone walls and many historical features to make for an authentic stay in Jaén. It's built on a mountaintop, which gives dramatic views of the surrounding area. The interior feels like a castle (although much of it is new construction) including high, arched ceiling, wooden beams and beautiful, tiled floors throughout. The décor includes period recreation and antique furniture with an Arabic influence. The parador also offered an amazing free breakfast with locally made treats, which we enjoyed overlooking the surrounding mountains Jaen is home to a regional museum that was exceptional.
Even though Jaen is filled with traffic, we rented a car there and used it as our base to explore the city and its museums, and later drove to…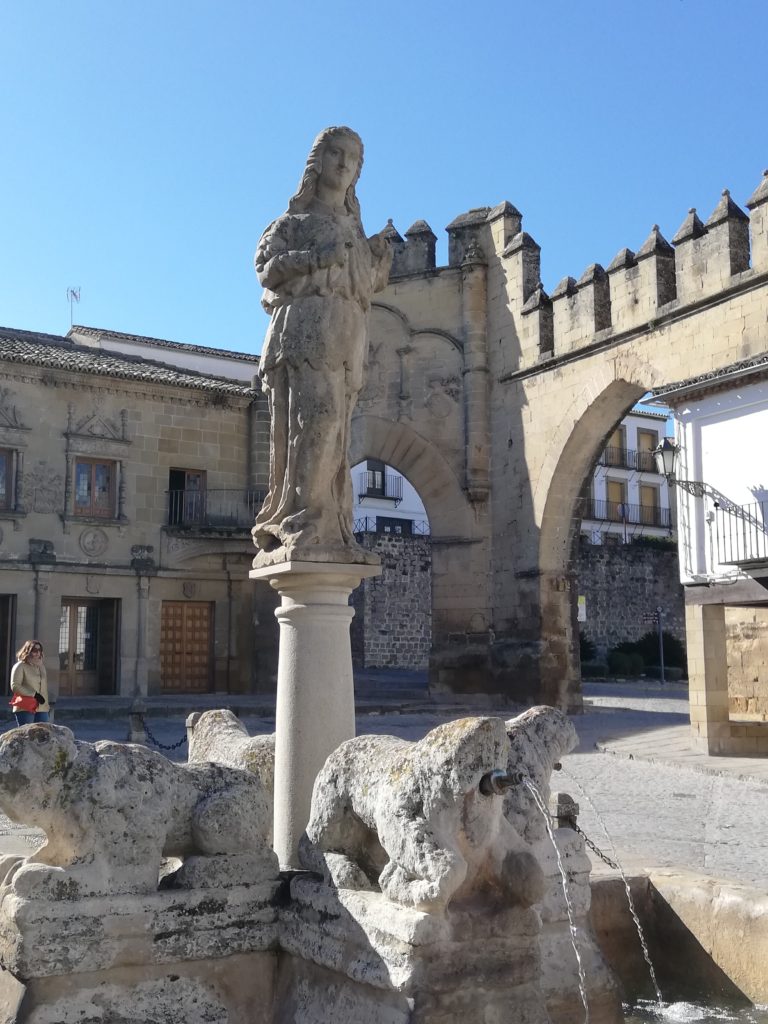 Ubeda and Baeza
These two adjacent towns are World Heritage cities, and are home to an impressive number of historical buildings. Baeza is a magnificent monumental town of quiet streets and golden stone with a wonderful collection of exquisite artistic and historical monuments. Úbeda was filled with Renaissance era buildings, filling the town with amazing architecture. We stayed in the Ubeda Parador; a splurge that was well worth it.
Malaga
We dropped the car off as soon as we arrived in Malaga. This city is one of Spain's larger ports, commercial centers, and has a busy airport. It also has high-speed rail to Madrid. Phil stayed here in 2018 to submit his application for Spanish citizenship. Malaga is HUGE, but the historic center is car-free, very walkable, has wonderful sculptures throughout, and is packed with restaurants and bars. It's a bit touristy, but the vast majority of people seemed to have been Spaniards. Although the weather here is comparable to Almeria, the beach is tiny and not very sandy. What Malaga does have is museums, tapas, and amazing historic sites: a mudejar palace, a 14th century castle, Roman amphitheater. It's Picasso's birthplace, and there's a Picasso Museum with tons of his works. There's a branch of the Hermitage (we skipped it due to the Russian invasion of Ukraine), and a branch of the Thyssen of Madrid. The local mercado was a good hybrid of eateries and traditional groceries – and the best olives Phil has ever had. We enjoyed our stay immensely and hope to return.
Madrid
Due to covid, we hadn't seen our friends, Mark & Jolee, for many years. Our stay in Madrid was primarily to spend time with them, continue exploring the city, and do some shopping. We went to the Rastro, the sprawling Sunday market, and also went to the Prado, primarily to see their collection of Roman sculpture and 18th century Italian sculpture.
Logistics/Notes:
We stayed in Airbnbs except for Jaen (Parador) and Ubeda (Parador). We recommend that if you're going to stay in any parador, first join their "Amigo" club, which will entitle you to a free breakfast, discounted rooms, and a welcome drink. And of course, you'll need to book directly.
We rented from Europcar. There were cheaper options, but many car rental agents in Spain frequently cancel reservations at the last minute. Get the smallest car you can fit into, maybe smaller. We reserved a 'micro' and they gave us a subcompact. With gas prices now the equivalent of US$10/gallon, and parking close to non-existent, smaller is best. Even better: don't rent a car.