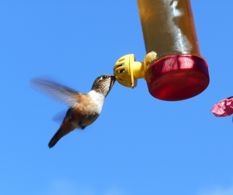 Many of our friends who have been to Costa Rica have noted that the infrastructure there is very geared to gringo tourists – perhaps a bit too much so. While having some infrastructure is nice, we wanted the jungles and cloud forests, and diverse flora and fauna, without the overlay of tourism. Panama offered exactly that. The wildlife and ecosystems are nearly identical, the prices were reasonable, and we found everything we were looking for.
We decided to begin our trip with 2-days in Panama City. While this city is crowded and choked with traffic, it has the huge Parque Metropolitano, where we saw our first sloths! We also saw many birds, leafcutter ants, and exotic vegetation. It's right in the city, but is enormous and feels more like a reserve than a city park.  We also went to the Smithsonian's Punta Culebra Nature Center, a beautiful place to see more sloths, a great exhibit on frogs and other amphibians, plus wonderful pelicans and other sea birds in a great setting in the harbor (built on the excavate from the Canal!. We visited Casco Viejo, an older part of the city and a nice place for a walk, and then to the canal's Miraflores locks and visitor center. Unfortunately, Panama City is completely choked with traffic throughout the day, so each excursion had to take that into account. They are building two new metro lines that should ease the problem somewhat. Hopefully.
After 2 city days, we took a short flight to David, a small city in the west of the country, and a jumping off point for trips to the Boquete region. From there, it was a two-hour drive to Mount Totumas Cloud Forest, a highlight of our Panama trip. Mount Totumas borders La Amistad National Park, a huge park that straddles the Costa Rica-Panama frontier. The owner/innkeeper, Jeffrey Dietrich , an avid birder and naturalist, bought the land to introduce travelers to this unique place, and to protect it from development. He created miles of trails on old logging roads, created an ingenious hydroelectric generation system and a mini coffee plantation, all of which blend with the environment. He provides local jobs, and has become accepted and locally quite popular. He also loves to go hiking with his guests – and we had a chance to spend time with him each day we were there. He helped us to see numerous birds, spider and howler monkeys, and orchids high in the treetops.
The inn has very comfortable rooms, a spacious common area, beautiful vistas of the mountains (we saw rainbows twice while there) and good home cooked meals. There are hummingbird feeders on the deck of one of the buildings which attracts a dozen (or more species) of hummingbirds. We went each afternoon to watch their iridescent colors glisten in the sun as they flitted around. There are countless species of butterflies and moths, which attracts entomologists from around the world. Jeffrey's collection of moths and butterflies is enormous. If you love beautiful scenery, very comfortable rooms, great meals and an amazing guide to the diverse bird life of this part of Panama, this lodge is a gem!
Returning to Panama City, we headed to the area north of the Canal Zone along the Chagres River. Unfortunately, as we had read, access to Chagres National Park has been cut off by local developers who have privatized local roads. Nevertheless, we saw amazing birds in this area. The lodge, La Semilla, was delightfully luxurious, and their bird feeder attracts a rainbow collection of local birdlife.  But we cut our trip to this part of Panama short due to the lack of access to the Chagres.
From La Semilla, we went to the canal area, Gamboa. We had read that this is one of the richest birding areas in the world, and it is. On the first day, we saw two types of toucans and countless birds. The innkeeper, Ivan Ortiz, is an amazing host, and very helpful for birders – both beginners and hardcore. He helped us find good vantage points, and made us a boxed breakfast so we could get out early one day. He helped us fix our binoculars which I had accidentally dropped. This was the perfect birders' lodge: comfortable, adequate (without being spartan), and with lots of welcome help and advice. We could have stayed at the Gamboa Resort, along with a few hundred travelers on the 'canal tour' – but Ivan's offered us a personalized experience that was exactly what we were looking for.
The Gamboa Resort does offer some attractions, including a lovely orchid collection .  In addition, on the grounds is a reserve for rescued animals, where we had the chance to get up close and personal with a baby anteater, a two-toed sloth, and an adorable 3-toed sloth.  The Resort also has a cable ride which allows one to get a tree-top view of the forest.  We saw several sloths during this trip, including one 3 toed sloth that had decided to hang out in one of the cable towers, unperturbed by our passing car.
After three nights in Gamboa, we began our trip back, spending one night at the Riande Airport Hotel before our very early morning departure from Panama City, and then to Mexico City – and then home.
Logistics and Reviews
Best Western Zen Hotel, Panama City
Convenient, clean, quiet. Giant very well-appointed room, excellent breakfast.
Mount Totumas Cloud Forest
If we could describe the perfect getaway experience, it would be hard to imagine one that's better than Mt. Totumas. Situated at the border of La Amistad National Park in western Panama, this lodge offered a bit of paradise: cool weather, superb bird/wildlife viewing, tons of slightly challenging (but doable) trails, constant rainbows, calls of howler monkeys all around us, and great meals. Jeffrey, the owner/host, enthusiastically led daily trips. He was always eager to help make our stay great, and he succeeded. We chose one of the large rooms in the main lodge, which was enormous. The other guests were all friendly and enjoyable to chat with. The only small drawback (which is also a plus) is that it's remote. The road in was a bit bone-jarring, but due to Thrifty-Panama's impressive incompetence, they gave us a 4WD monster-SUV, which made it a pretty smooth ride. (We'd reserved a smaller vehicle at Thrifty, but they had nothing other than this huge vehicle available.)
La Semilla
This lodge is in the hills NW of Panama City, near the upper Chagres River. We were hoping to have more access to Chagres National Park, but many adjacent gated communities have now sadly cut off park access. In any case, we were able to see a huge number of birds, go for a delightful walk in the hills, and enjoy our stay immensely. The hosts could not have been nicer, and the breakfasts were delicious. Arriving after dark, we had a little trouble finding La Semilla. We should have trusted our GPS; it was exact to the inch.  For reasons that we don't understand, the owners have a giant palm blocking the logo "La Semilla", so the lodge looks like every other house in the neighborhood.
Ivan's Birding Lodge /B&B
Ivan Ortiz is one of those rare innkeepers who clearly loves what he does, enjoys chatting with his guests, and does his utmost to make their experience a perfect one. The Canal Zone was our primary destination in Panama. We're amateur birders, and rely on others to help us find and identify many species. Ivan steered us to the very best locations, times, and what to look for. He took us (and all his guests) on an owl watch. His wife, Gladys, prepared the dinners, and she's an extraordinarily good cook. One evening, she prepared a typical Panamanian dinner, made with fresh ingredients and bursting with flavor. She even shared the recipe with us, and I'll be preparing this dish soon.
Riande Airport Hotel
Convenient, quiet, and clean. Free shuttle. The perfect airport hotel, with pool and several bars.
Hotel Canada, Mexico City
We started our trip with a few days in Mexico City.  We've stayed at the Hotel Canada for over ten years on all our annual trips to DF. We have always appreciated this hotel's good facilities and perfect location. But this time was our last; we will not stay here again, nor will we recommend this hotel to others. A CRAZY-LOUD bar opened directly next door that plays their music at TOP VOLUME until 3-4am. Sleeping is impossible without earplugs, and difficult even with them. It's sad, and I feel bad for the owners and staff, but the purpose of a hotel is to sleep, and that's not going to happen here. The Hotel Canada is also among those that charge booking.com users an extra fee. Although they dropped this fee (about US$10/day) when we became insistent, this further convinced us that we should find a new 'favorite' hotel.
Hotel Gillow, Mexico City
This is now our new favorite hotel in Mexico City! Although the rooms cost a bit more than the Canada, the hotel is quiet, the rooms have fans, and they're more spacious. It's just around the corner from the Hotel Canada. (Para ahorrar dinero, si habla español, llamelos directamente.)
Thrifty Panama
Thrifty Panama wins the award for the world's most deceptive and fraudulent car rental agency- and we've rented from some pretty shady firms. How they stay in business is an oddity; how they stay out of prison is amazing. They didn't have the cars I reserved nor anything vaguely similar. They tried to rent us a car that wasn't working. They tried to charge us more than the reservation price. They intentionally tried to tack on additional fees without explanations, even when we questioned and demanded that they remove the additional fees. They demanded that we sign blank, no-limit charge slips; they double-charged our credit cards, about which we're still fighting with them. Thrifty isn't normally bad; in fact they tend to be pretty good in their USA locations. Thrifty's HQ should disassociate themselves from these crooks.
Booking.com
We used to use booking.com without hesitation. Hotels in Mexico (and elsewhere I've learned) now charge booking.com customers MUCH MORE than direct booking clients, and far more than the fee that booking.com charges them. I suppose that booking.com will become a victim of "showrooming" — using their website to find a good hotel, and then booking directly with the establishment. I know that's what I'll be doing.
Bird list (partial)
Brown Violet Ear Hummingbird
Magnificent Hummingbird
Scintillant Hummingbird
Brown Pelican
Black Vulture
Turkey Vulture
Fiery-Throated Hummingbird
Green Violet-Ear Hummingbird
Snowy Belly Hummingbird
Collared Trogan
Magenta Throated Woodstart
Black And White Warbler
Black Throated Green Warbler
Wilson's Warbler
Quetzal (Only a Glimpse)
Collared Aracari (Like a Toucan)
Chestnut Mandibled Toucan
Violet Saberwing
Redstart
Blackburnian Warbler
Brown Capped Vireo
Various Small Waders (Ammo Dump Pond, Gamboa)
Various Parrots (In Gamboa)
White Ibis
Night Herons
Pileated Woodpecker
Red Crowned Woodpecker
Cinnamon Woodpecker
Ruddy Woodpecker
Many LBJs and Sparrows
Turquoise Cotinga
American Redstart
Blue Dacnis
Red Legged Honeycreeper
Spot Crowned Euphonia
Blue Hooded Euphonia
Blue Grey Tanager
Crimson Backed Tanager