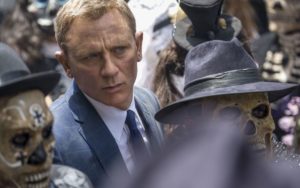 The James Bond 2016 film, Spectre, opens to an enormous Day of the Dead parade in Mexico City. The film's incredibly rich scenery shows Bond strolling through the crowds, escaping exploding buildings, crashing helicopters, emerging completely unscathed (of course!) as he pursues his targets. However, the most amazing aspect of the scene was that before the film's release, there was no "Day of the Dead parade" in Mexico City!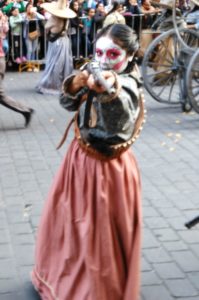 But who can say no to an enormous celebration like the one in Spectre? Within months, the Mexico City government and thousands of volunteers created their own extravaganza. The parade was a huge success; in the parade's first year, nearly ten times as many people showed up than were expected. When we read about the "new tradition," we decided to go to parade #2, and spend a week in Mexico City enjoying the holiday, culture, and the company of our friends there.
Mexico is very internet-savvy. Nevertheless, finding the location and even existence of the numerous events and special exhibitions was impressively difficult. We searched countless websites, newspapers, and posters, and put together a list of a few dozen must-see events. We spent hours on crowded subways, plodding up and down streets, and walking by closed museums – that were supposed to be open. We found amazing exhibitions that weren't listed, gave up on finding many "scheduled" but non-existent events, visited enormous ofrendas (some on the "map" but many not, and wonderful art installations, and saw hundreds of costumed people just strolling around the city.
The September 19th earthquake occurred about 10 weeks before our visit. It killed hundreds, destroyed over 200 buildings, and tested the ability of the Mexican government to respond to a staggering disaster. We've seen America's FEMA crumble when responding to Katrina in New Orleans and Maria in Puerto Rico. In sharp contrast, the city mobilized in a manner that seemed impossible. People from all walks of life worked side by side to dig out victims, often using just their bare hands. Food vendors delivered free meals to the victims. The government issued pleas to stop volunteering – too many people were flooding the areas – not to gawk – but to help, creating scenes too overwhelming to the professional front-line rescuers. Donations flowed; people opened their doors to those left homeless. This is who Mexicans are.  Their response made us cringe at the paucity of the US response to Puerto Rico's leveling by a hurricane earlier this year.
A few highlights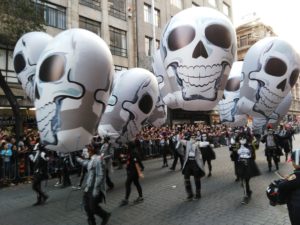 The parade
We had a map of the parade route, and were able to figure out the best vantage point (3 blocks from our hotel). We had NO idea what time the parade would pass by, so we got to the chosen point 3 or 4 hours before the start. This turned out to be a good thing – it was massively crowded, but we had a front row spot. Our parade viewing neighbors were nice, and the time flew by. The parade started with a dedication to the Volunteers of the 19th of September, the day of the awful earthquake. We took hundreds of photos (see below), and had a great time. The parade volunteers interacted with the viewers much more than in US parades. Maybe because there weren't a lot of gringos, but it's more likely because this is simply who Mexicans are.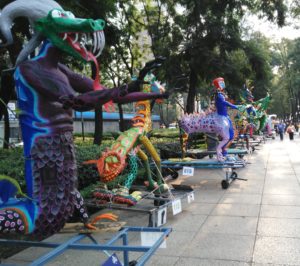 The paper mache monsters (alibrijes) and Mexicraneos on the Reforma
The Reforma is one of the city's major avenues. The alibrijes event has been going on there for ten years, but was the first time we saw it. The monsters are huge – many over 10 feet high – and extraordinarily colorful and weird. The detail is amazing, and the quantity was overwhelming. Adjacent to the alibrijes were 5-foot diameter Mexicraneos (calaveras) – skulls – richly decorated. It's an outdoor art show like none we're ever seen and was along worth the trip.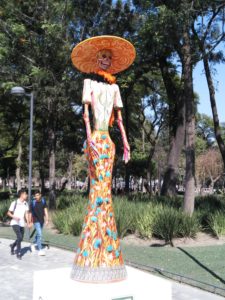 Catrinas on the Alameda
The Alameda is pictured in one of Diego Rivera's most famous murals: https://www.diegorivera.org/dream-of-a-sunday-afternoon-in-alameda-park.jsp. For Dia de los Muertos, the park became home to over a dozen Catrinas, dressed up for the special occasion. Catrinas are meant to illustrate that class differences don't transcend death – or perhaps they do? The painting is loaded with symbolism; studying it is a rewarding look at Mexican art and culture. The Alameda also had a huge display of mobile alibrijes. We viewed them during the day and returned at night for the planned parade. That was somewhat of a bust – 90% of the alibrijes never got going, but it was fun nevertheless.
The Ofrendas
Everywhere we went, we saw ofrendas: tributes to one's past. If you've seen Coco, you know how important heritage and family is in Mexican culture, and the central role of the ofrenda in Dia del los Muertos celebrations. The smallest restaurant, hotel, store, college, performance center, government, – everywhere –has ofrendas of varying size, artistic effort, complexity, and beauty. We didn't tire of visiting ofrendas!
Coyocan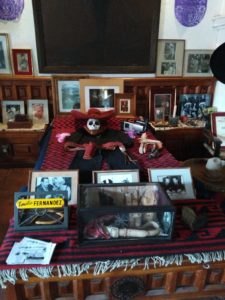 We went to the suburb of Coyocan to see an exhibit and fiesta at the Museo Nacional de Culturas Populares, as well as the home of Emilio Fernández. Coyocan used to be a sleepy suburb, known as the home of Frida Kahlo, Diego Rivera, and other famous Mexicans, as well as Leon Trotsky. It's become a bit touristy, and the market has moved out of the village square into a market building. Nevertheless, it's an enjoyable place to spend a day.
Casa Fortaleza de Emilio Fernandez – Emilio Fernández is Mexico's most celebrated film director. His home is a tribute to his work and his life, and is open just a few days a year around Dia de los Muertos. His home is pretty hard to find, but again, if you're interested in Mexican culture and art, visiting this site vale la pena.
Logistics
Hotel Gillow – For the second time we stayed at our new favorite Mexico City hotel, Hotel Gillow. We had a slight mix-up when we first arrived (at 5:30am), but the manager fixed everything later that day. The location is great, it's quiet, and the staff are all wonderful.
The Metro – I "lost" my cellphone on a crowded train – at almost the exact same time that Rick Steves did in Paris. From Rick Steves' blog:
Thieves know where the crowds are — and where the tourists are — and they are very, very deft at their work. A petite bump and a slight nudge getting off the Metro in Paris and bam — wallet gone. OK, I admit, it's my fault…I wasn't wearing my money belt. And it cost me. I went back to the hotel, referred to the emergency section in the appendix of our Paris guidebook, and set about canceling my credit cards. I lost my driver's license, two credit cards, and some money.
Luckily, I only lost my phone. I had my tablet, and Susan had her phone, so it was really only an annoyance. I had installed software to remotely lock the phone and called AT&T to disable the SIM card. I changed a few passwords, and we went on enjoying our vacation. I won't be so careless in the future.